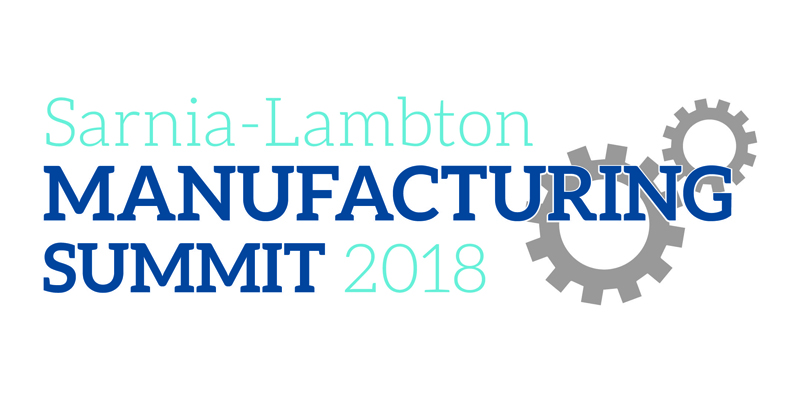 January 25, 2018, Lambton College and the Bluewater Technology Access Centre hosted the 2nd Manufacturing Summit, along with partners Sarnia-Lambton Economic Partnership (SLEP), the Sarnia-Lambton Industrial Alliance (SLIA) and the Western Sarnia-Lambton Research Park.
The one-day event welcomed 71 attendees, some of which traveled from as far away as Toronto to the Lambton College Event Centre to participate in the showcase.
Those in attendance had to the opportunity to learn more about the manufacturing industry on both a local, regional and national scale.
The day featured 10 keynote speakers who covered topics ranging from Open Data Exchange to the Industrial sector of Sarnia-Lambton. Presenters included Kevin Tuer from Canada's Open Data Exchange, Sandy Marshall from Bioindustrial Innovation Canada (BIC), Paul Boothe from Trillium Network for Advanced Manufacturing, as well as many others.
Guests of the event also heard two presentations regarding how Intelligent Communities are shaping the manufacturing industry. Speakers, Rob McCann from Clearcable Networks and Chris Gould from Bluewater Regional Networks provided information on the concept of an Intelligent Community in relation to the manufacturing industry and Manufacturing Cluster development.
The event focused on increasing the awareness of manufacturing technologies and innovation occurring in the Sarnia-Lambton area, while also highlighting innovators, technology developers and organizations in the manufacturing field. These individuals and organizations were able to share their knowledge on the past, and more importantly the future of the industry.
In addition to the keynote speaker presentations, guests were able to participate in networking event that included 11 information booths from local organizations, such as the Sarnia-Lambton Economic Partnership (SLEP) and the College's Bluewater Technology Access Centre (BTAC).