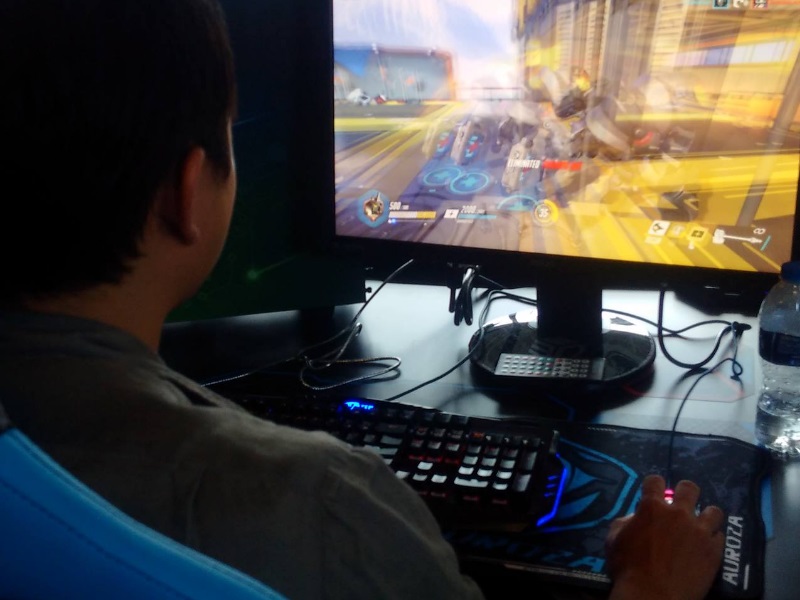 Troy Shantz, The Sarnia Journal | September 11, 2017
Lambton College has opened a sports arena that is the first of its kind at a Canadian college.
No balls or nets here, just high-end gaming computers lining a glass-walled space in the former student lounge.
"We saw this need and we said we can make this run, and we can give students an amazing experience inside this lab," said Donna Church, vice president of academics.
The college invested $150,000 in the 20-station, climate-controlled gaming arena that's now home court for a new varsity eSports team.
The Lambton Lions will compete against other post-secondary teams from across North America in the Collegiate Starleague. The league hosts tournaments with more than $200,000 in scholarships and prizes up for grabs this year.
Lambton and the arena will specialize in PC games, with a focus on multiplayer online battle arena, fantasy, role-playing, adventure, puzzle, real-time strategy and combat games.
Some of the most popular right now are Counter-Strike: Global Offensive, Defense of the Ancients 2 and League of Legends.
So what does an eSports athlete need to compete at the varsity level?
"Concentration, hand-eye, the ability to make quick second decisions, and also team work," said James Grant, who oversees athletics at the college.
"It's gonna be great to watch how they adapt and build camaraderie and become big at the school."
Students competed in team tryouts as the arena was unveiling last week, amid the click and clack of mice and keystrokes.
Fire science student Zach Hudson was one of those hoping to land a coveted spot on the varsity squad.
"As a sport, it's getting more and more serious," he said. "They're treating it as a traditional sport, they're getting people on diets and workout plans like they would for any other traditional sport."
The five-year gamer said eSports do share some characteristics with other sports.
"If you get into a pretty close game and someone makes a good play … it gets the heart pumping pretty good."
Eventually, all Lambton students will be able to use the arena, and there's talk of opening it up to the community and surrounding high schools.
Students participate in tryouts for the Lambton College eSports team, which will play out of the college's new eSports Arena. Troy Shantz
While researching eSports, college staff quickly saw an upside.
"Every spot we went, we just kept getting stronger and stronger indicators of success," said Church. "My first foray was seeing … an event being broadcasted around the world at the Air Canada Centre."
Lambton designed its eSports programs and athletics on what several U.S. Colleges have already done.
"This is an up and coming economic engine… a multibillion dollar industry," said Church
"We pride ourselves on aligning our programs with the needs of industry."
Coinciding with the arena launch, officials unveiled a new program: eSports entrepreneurship and administration.
It's the first of its kind in Ontario and aims to help students develop knowledge in the rapidly changing gaming world, with a focus on business, marketing and social media.
Sarnia YouTuber and Lambton alumnus Aaron Esser was on hand for the grand opening. The former digital photography student, who has nearly a million subscribers on his channel, said it speaks volumes that Lambton embraced gaming so quickly.
"I think it's a really smart move for the college, for sure," he said. "It's a great industry to be a part of and it's constantly growing."
Original article:
http://thesarniajournal.ca/college-breaks-new-ground-with-esports-arena-varsity-team/