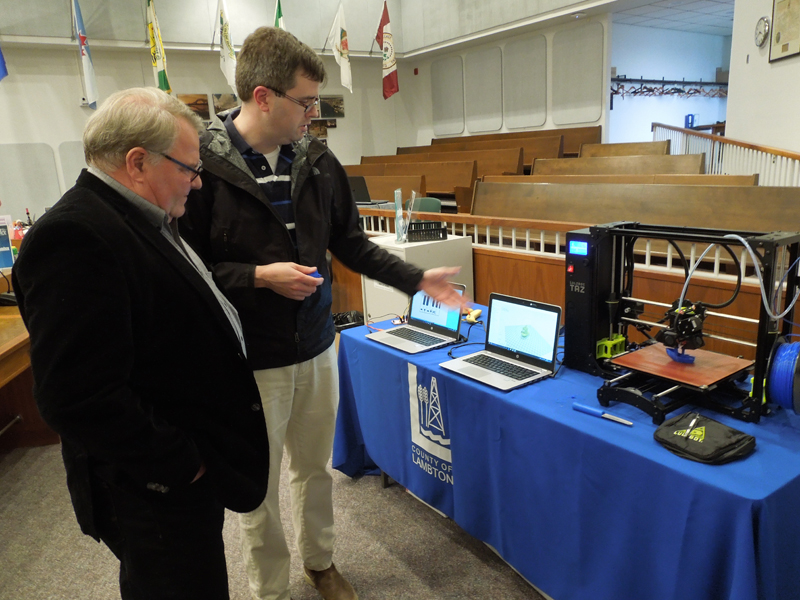 Troy Shantz, The Sarnia Journal | January 17, 2017
The library's Makerspace is hitting the road, taking 3D printers, dye cutters and other specialized equipment to locations across Sarnia-Lambton.
Starting this week, 13 pieces of unique prototyping equipment will travel to 19 stops, including Point Edward, Mooretown, the Aamjiwnaang First Nation and Bright's Grove.
Library staff will be on hand at each launch event to demonstrate the equipment and show what it's capable of, said Greer Macdonell, the community library supervisor for Lambton County.
"The launch is an opportunity to show equipment and get people excited," said Macdonell, noting 3D Printers, laser cutters, sewing machines, button-makers and audio-visual equipment will be on hand.
Following the launch events, pieces of equipment will be put on rotation, distributed throughout the 25 county branches for the rest of the year.
The Makerspace is a two-phase project that includes training on the specialized manufacturing equipment with library memberships.
Phase one saw the permanent Makerspace established at the Sarnia Library branch in 2016. To date, it has attracted over 5,000 participants, with 350 community members trained to use the eight workstations at the downtown location.
Macdonell said anyone already trained downtown can use the equipment at other county branches.
The Mobile Makerspace will teach community members to design and manufacture items at their local library using tools not otherwise accessible or affordable to the general public, said Lambton Warden Bill Weber.
To see equipment rotation and schedules, visit www.lclibrary.ca
Local Launch Events:
JAN. 21: Maawn Doosh Guming Community Centre, Aamjiwnaang, 1972 Virgil Ave. (10 a.m. to 1 p.m.)
FEB. 10: Bright's Grove School, 2612 Hamilton Rd., Bright's Grove (6 p.m. to 9 p.m.)
FEB. 18: Mooretown Sports Complex
1166 Emily St., Mooretown (10 a.m. to 1 p.m.)
FEB. 27: Bridgeview School, 205 Albert St., Point Edward (6 p.m. to 9 p.m.)
original article: http://thesarniajournal.ca/creative-tools-spreading-to-other-libraries/