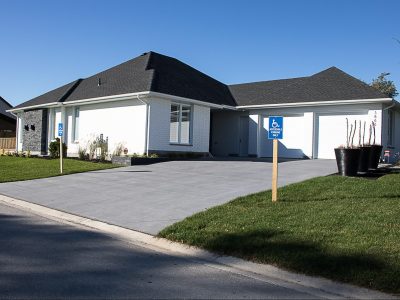 Melanie Irwin, Blackburn News – Sarnia | August 8, 2017
The Bluewater Health Foundation's 2018 dream home will offer a fully accessible main floor, allowing easier access for visitors of all ages and mobility.
The announcement was made Tuesday morning at the site of the home in Camlachie at 3866 Arie Crt.
Foundation Executive Director Kathy Alexander says it's the first time in Ontario that a dream home lottery will offer a fully "VisitAble" home as the grand prize.
"What that means is accessible entry ways with no steps, we have three of those at this years home," says Alexander. "We have two fully accessible washrooms and doorways and hallways are larger than average."
Alexander says the decision was a no brainer after accessibility became an issue last year when foundation board member Dan Edwards volunteered to host a dream home open house but wasn't able to.
"It started the conversation and we began looking at how easy it was to implement," she says. "We thought, why haven't we done this sooner and had full endorsement from our board of directors which was important. Everyone really believed in this cause and Dan was involved from a design perspective working with our builders and decorators."
Edwards, who suffered a spinal cord injury in 2006 that left him a paraplegic, thinks the easy access and convenience of the home is great.
"It's definitely more comfortable," says Edwards. "You can go wherever without putting holes in the walls. That's definitely something I do from time to time at my moms house."
He says any able bodied person wouldn't even recognize some of the small things that have been done to make the home more accessible.
"The outlets are higher up," says Edwards. "Who wants to be bending all the way to the ground to plug something in anyways, right?"
He thinks the improved accessibility will drive ticket sales this year.
"If you win this, you could potentially be in your forever home! Imagine moving into a home that's already accessible for your future," says Edwards.
Full details about the 2018 Dream Home Lottery will be announced in September with tickets going on sale October 2.
The dream home will formally be opened October 7.
Over 22 years, the Dream Home Lottery has raised over $6-million for Bluewater Health.
Original article: http://blackburnnews.com/sarnia/sarnia-news/2017/08/08/2018-dream-home-incorporates-visitable-concept-gallery/