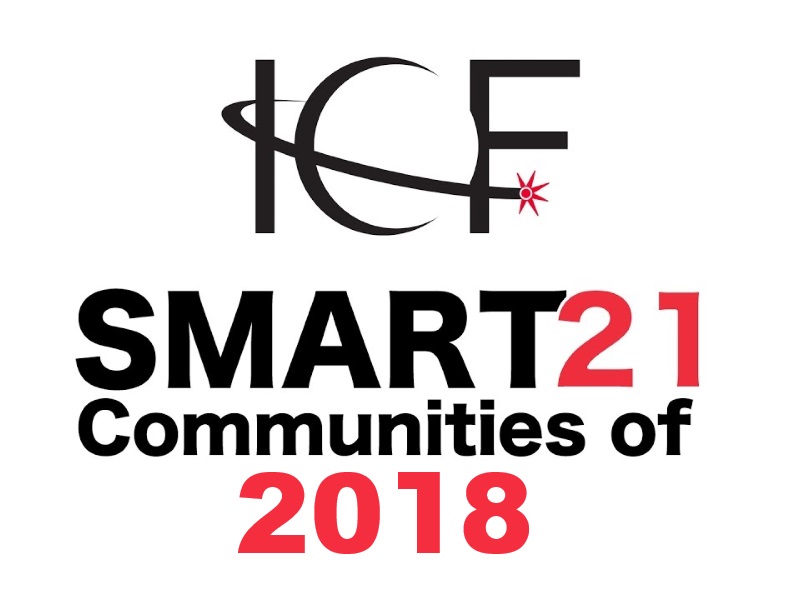 Lambton County, ON – For the third year in a row, Sarnia-Lambton has been named among the Intelligent Community Forum's (ICF) Smart21 Communities.
The class of 2018 announcement was made today by the ICF in New York City. Sarnia-Lambton's candidacy was selected from a large pool of communities world-wide.
In 2017, over 400 municipalities from around the world competed for the honour of being in the ICF's Smart21 Communities.  Candidates are evaluated on their community's access to broadband, their knowledge workforce, innovation, digital equality, sustainability, and advocacy. Smart21 Communities are now invited to apply to be named among ICF's Top7 intelligent communities, which will be announced early in 2018.
"This is a significant achievement when you consider the hundreds of communities that apply for this designation annually," said Chris Gould, Vice President, Bluewater Regional Networks and the Chair of the Sarnia-Lambton Intelligent Community Task Force. "The task force understands that becoming a truly intelligent community is a transformative journey that requires the dedication and shared vision of the local public, private and academic sectors."
"ICF continues to recognize Lambton County as a community that uses technological and communicative innovation to work together to build a prosperous and equitable economy that can compete on the international stage," said Lambton County Warden Bill Weber.  "This designation also recognizes Lambton's ongoing efforts to build a sustainable community, where a broad offering of opportunities is available to all."
A partnership comprised of representatives from the Sarnia-Lambton Economic Partnership, County of Lambton, City of Sarnia, Bluewater Power, Bluewater Regional Networks, Brooke Telecom, Lambton College, and the Western Sarnia-Lambton Research Park applied to the ICF program on behalf of the community.
To learn more about what makes Sarnia-Lambton a "smart community", visit IntelligentSL.ca.
About the Intelligent Community Forum
The Intelligent Community Forum is a global network of cities and regions with a think tank at its center. Its mission is to help communities use information and communications technology to create inclusive prosperity, tackle social and governance challenges and enrich their quality of life.