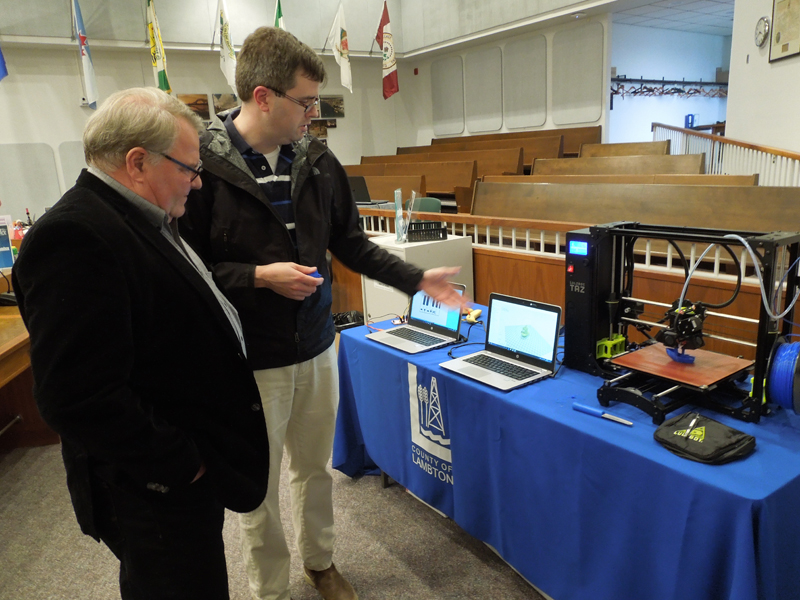 Paul Morden, The Sarnia Observer | January 15, 2018
Makerspace, one way the Lambton County Library is embracing changing technology, has been a hit.
Launched in June 2016 with funding from the provincial government, Makerspace has a permanent location at the Sarnia Public Library with a 3D printer, laser cutter, book binder, button makers, sewing machine and other machines for use by patrons with a library card.
Last year, the county added a Mobile Makerspace project that takes machines on the road for visits to the county library system's other branches.
Provincial funding ended in December but county library officials, with the blessing of county council, are working out plans and budgets to continuing offering the permanent and mobile Makerspace services.
"It has been really well received by the entire Lambton community," said Darlene Coke, the county's manager of library services.
"It's nice to see the widespread interest."
Makerspaces, like Lambton's, are turning up more often in public and school libraries around Ontario, Coke said.
The first year when the program was only available at the downtown library, more than 6,500 people visited and attended workshops.
In the second year, when the Mobile Makerspace was added, users numbered more than 13,600.
A report Coke prepared for county council notes interest was also strong in library branches outside of the city and that, at times, groups had to be turned away.
"Young children have been very interested, but we've also had middle-aged adults and seniors participating, as well," she said.
The report notes Makerspace is also contributing to the local economy by providing homebased and other small businesses access to the technology.
They include Jade Barr who began a soft-soled shoemaking business, JadyBabys, in her home eight years ago and last spring moved into a commercial space in Sarnia.
Barr said she was having labels made for her by a Toronto-based supplier.
"I knew how to make them myself but the machine to make them is fairly expensive," she said.
"It's not really feasible for me."
She began using the laser cutter at the downtown library's Makerspace after hearing about it from a friend, reducing the cost of each lapel from 75 cents to about three cents.
"The library is great," Barr said.
County council recently backed continuing the Mobile Makerspace visits through June while library officials figure out how to incorporate the program into the department's regular budget.
In 2017, county council temporarily altered the library department's staffing to increase the complement for the programming but provincial funding, which had off-set some staffing costs, ran out at the end of the year, the report said.
Some costs for supplies are expected to be offset by user fees.
"It's part of the transformation of library services," Coke said.
"Libraries are moving away from those bricks and mortar locations that simple offer books."
That has involved offering digital books and other online services, along with Makerspaces which provide a way to develop "skills that will really benefit those that are preparing for jobs in future economies," Coke said.
"Today, literacy is about more than just reading and writing. It's also about interacting across platforms and tools."
Skills expected to need in the future include critical thinking, creativity, decision making, cognitive flexibility and the ability to solve complex problems, Coke said.
"Those are the types of skills that are really fostered through use of Makerspace equipment."