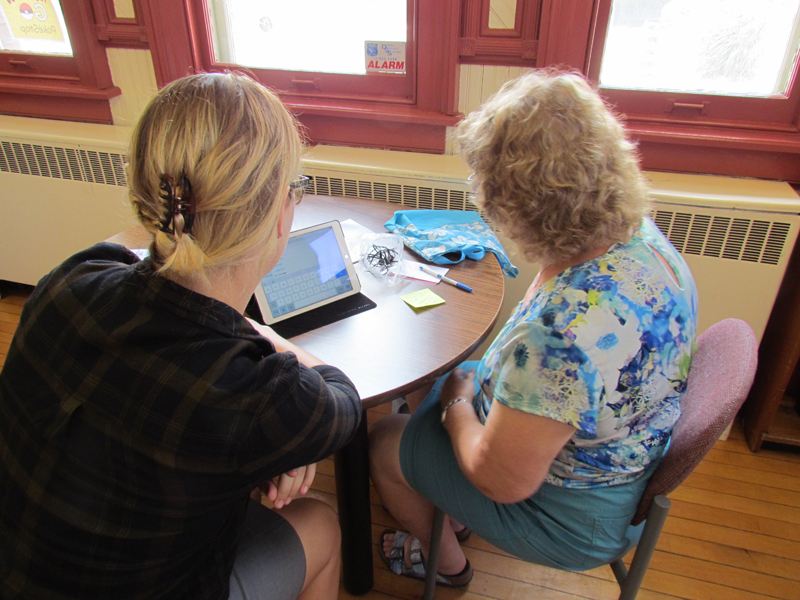 Carl Hnatyshyn, Postmedia Network | September 30, 2016
The technology gap that exists between young people and Sarnia's seniors is about to be narrowed.
And with that, perhaps a generation gap will be narrowed as well.
A unique program that will see teens teaching seniors the finer points about the Internet and social media begins Oct. 11 in a four-week program called Cyber Seniors. High school students from across Sarnia will be earning their required volunteer hours by providing one-on-one tutorials.
Karen Minty, the host of TV Cogeco's Community Conversations, is the force behind Cyber Seniors.
"What we're trying to do is teach these seniors some basic skills, like how to use a mouse, how to do a Google search or how to use email," she said.
"We'll also be teaching them about YouTube so they can watch videos, Facebook so they can see pictures and Skype so that they can talk to friends and relatives."
Taking place on Tuesdays and Thursdays at Trinity Anglican Church, the tutorials are a way of providing practical and meaningful experience for students while giving seniors a new way of connecting with their loved ones, Minty said.
"I firmly believe that if you give kids meaningful experiences, they will take them. And I don't know if a lot of current volunteer experiences offer them that. (Taking part) in Cyber Seniors will look good on a kid's resume, and it's not only for kids who want to be teachers or work with seniors, it's open to everybody," she said. "They're going to learn so much about leadership, teamwork, communication and patience.
"And for seniors, can you imagine a grandfather seeing pictures of his newborn grandchild on Facebook for the first time or can you imagine someone Skyping their grandkids overseas? There are so many seniors who want to connect with others and this is such a great way of doing that," Minty said. "It really lets seniors take control."
The sessions are designed to be lively and enjoyable.
"One of the things I wanted to do was garner interest from the students, so the curriculum I wrote includes little fun challenges – like having the partners communicate with each other over the weekend – and we'll have prizes to keep it light and fun and enjoyable for everyone," said Minty.
The idea behind Cyber Seniors came from a documentary film of the same name.
"The idea came from a documentary called Cyber Seniors and I saw a trailer for it last year," she said. "It had to do with bridging that generational gap, with students learning from seniors and teaching them one-on-one about computers. Just watching the relationship building was fascinating, what they each learn and gain from that situation."
After watching the film Minty thought about bringing Cyber Seniors to Sarnia and proceeded to procure a $1,000 grant from the Awesome Foundation and find a suitable, accessible location.
Interest in the program is high, she said, and while she's still on the lookout for a few more high school students, seniors have responded positively.
"I've got enough seniors for the first session already, but if they're interested they can let me know because I plan to run the program again," she said. "We're also looking to the community for the donation of new or used laptops as well as mice, or mouses, however you say that."
By grouping seniors and teens together in a one-on-one setting, Minty said she hopes both tutors and tutees will benefit from the experience.
"This program connects students with the seniors and it also connects seniors to their families and friends," Minty said. "It really does give them a lifeline to the world."
For more information about Cyber Seniors, to register to volunteer or to donate new or used laptops, visit the Cyber Seniors-Sarnia Facebook page, email cyber.seniors.sarnia@gmail.com or call 519-312-1710.
Cyber Seniors begins Oct. 11 and will run on Tuesdays and Thursdays from 3 p.m. to 4:30 p.m. for four weeks. Volunteers need to register beforehand.
original article: http://www.theobserver.ca/2016/09/30/teens-teaching-seniors-about-the-internet-social-media