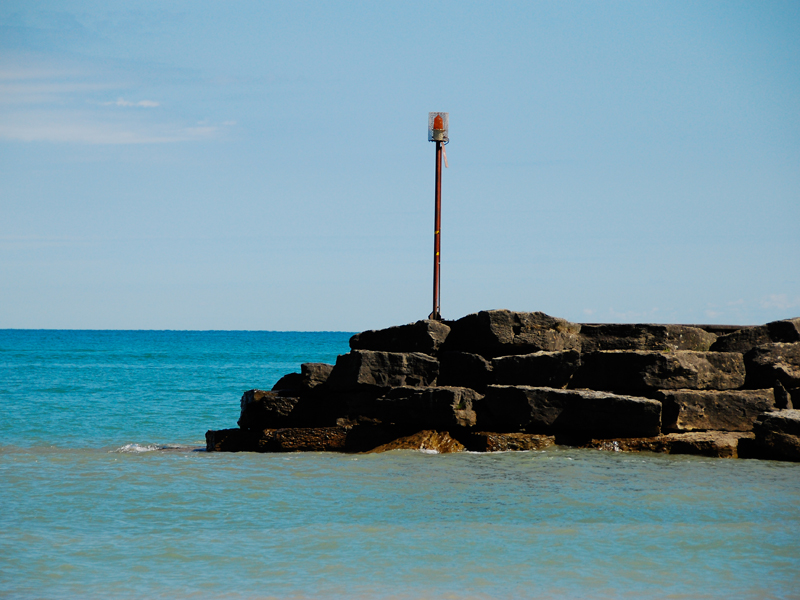 Paul Morden, Sarnia Observer | June 19, 2018
A new way of monitoring Lake Huron shoreline water quality in Lambton County promises more timely notifications for beach users when bacteria counts are high and swimming isn't advised.
Previously, water quality advisories at several of the county's public Lake Huron beaches were based on the testing of water samples Lambton Public Health collected at the beaches.
When those tests found high counts of E. coli bacteria in the water at a beach they would be retested and, if the results held up, the beach would be posted with signs warning swimmers until the water could be retested again, but the process took time.
Beginning this summer, the public health office has switched to a new daily predictive water sampling system at Grand Bend's north and south beach, the Ipperwash main beach, Bright's Grove and Canatara Park.
"The new predictive beach model monitoring system will provide more accurate representative of water quality and allow us to relay this information to the public sooner," said Theresa Warren, a public health inspector with Lambton Public Health.
"The primary drawback of our previous testing method was the time lapse from water sampling, lab analysis and reporting results to the public involved several days," she said.
"Sampling results may not have always reflected conditions of the beach when the results were received."
Public health officials have noted beaches may be temporarily polluted for up to 48 hours after a heavy rainfall. Also, if water in the lake becomes cloudy due to waves, bacteria from the lake bottom may become suspended in the water and increase the risk of illness.
High levels of E. coli in the water increase a swimmer's risk of skin, eye, ear, nose and throat infections, or gastrointestinal illness.
Warren said the predictive model "is basically a statistical equation" predicting E. coli levels using current beach conditions, including rainfall and wave activity.
"It allows us to post a beach immediately" without having to wait for water test results to arrive, she said.
"You're getting real-time data."
That information is available on the public health website, www.lambtonhealth.on.ca, but beach users can also text the word "Beach" to 226-909-3003 for up-to-date results, or call the beach information line at 519-383-3816.
"With the old system, results may not have been received until 48 hours after the sample was taken," Warren said.
"We know from the history of our beaches that water conditions change due to many different environmental factors within a few hours to a 24-hour period."
Bill Weber, the county's warden and mayor of Lambton Shores, said the new approach was tested and results were found to be more than 93 per cent accurate at the main beach in Grand Bend.
"I think it's a real positive way to protect the health of the swimmers," Weber said.
An advantage is that it allows signs warning swimmers to go up sooner when conditions could lead to high bacteria levels, and come sooner when levels drop again.
In the past, a busy tourist beach like Grand Bends could be posted with warning sighs right before a summer weekend and results from retesting might not come back until the weekend was over.
"It's a really good model for being able to keep the beach open when it's safe," Weber said about the predictive system.
The new predictive system isn't being used this summer for the beach at Pinery Provincial Park where the park conducts its own water testing.
"We report on the result of their sampling," Warren said.
The agency is also using physical water samples to monitor the beach this summer at the C. J. McEwan Conservation Authority in Plympton-Wyoming.
The park is a new addition to the public health office's beach monitoring program this year, taking the place of the Highland Glen Conservation Area in the same community because C. J. McEwan was being used more by bathers.
Warren said the public health office needs to collect water quality data for a few summers at the McEwan beach before it can begin using the predictive model there.
Another change this year is the level of E. coli that triggers a beach being posted with warning signs.
The requirement for posting in Ontario was previously 100 E. coli in 100 ml of water but has been changed to greater than 200 E. coli to match other provinces and jurisdictions, Warren said.
She added the agency will continue taking physical water samples at the beaches several times a week this summer while using the predictive model.
"It's a way to test our model and make sure everything's working properly."
None of the Lake Huron beaches monitored by the county were posted last summer with warning signs, compared to six beach postings in 2016.
Original article: http://www.theobserver.ca/2018/06/19/lambton-county-moves-to-predictive-system